Home
»
Home & Living
»
Up to 36% Off Traditional Porcelain Chinese Teaware from RM108 for 21-Piece Set
Up to 36% Off Traditional Porcelain Chinese Teaware from RM108 for 21-Piece Set
Delivery to Peninsular Malaysia included.
Choose from
21-piece set (RM122 value) + delivery to Pen. M'sia (RM7 value) for RM108 instead of RM129
30-piece set (RM192 value) + delivery to Pen. M'sia (RM7 value) for RM128 instead of RM199
Package includes
21-piece set
10x 25ml cups
4x frangrance smelling cup
1x teapot
1x tureen
1x tea strainer
1x saucer
2x coasters
1x raised pot pen
1x tea towel
1x solid wood tea tray
30-piece set
1x stainless steel kettle
10x tea cups
4x frangrance smelling cup
1x 17cm tea pin
1x 17cm tea spoon
1x accessories barrel
1x lucky toad
1x large tea dish
1x Shih pot
1x tureen
1x fair cup
1x tray
1x stainless steel tea trainer
1x pot pen
1x 17cm cup clip
1x 17cm cup fork
1x tea towel
1x drainage pen with ball
Warranty by Store4online
3-month warranty from date of receipt.
For warranty claims:
STEP 1: Call Store4online at 03-6127 4336 and provide the following details:
– Name
– Contact number
– Delivery address
– Groupon voucher code
– Groupon security code
– Attached Groupon
STEP 2: Upon confirmation, a mailing address will be provided.
STEP 3: Faulty products must be delivered in its original packaging (including accessories, manuals, and documentation) to Store4online, Selangor. Delivery costs to be covered by customer.
Store4online will cover delivery costs of replacement or repaired product to customer.
Printed Groupon will be required as proof of purchase.
Warranty claims which do not fulfil the steps above will not be processed due to missing information.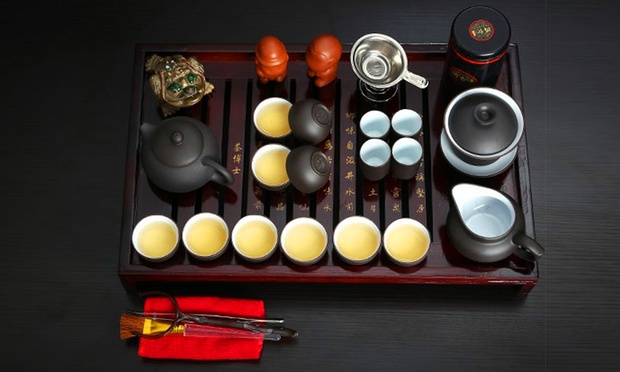 21pc Kungfu Tea Set without tea pot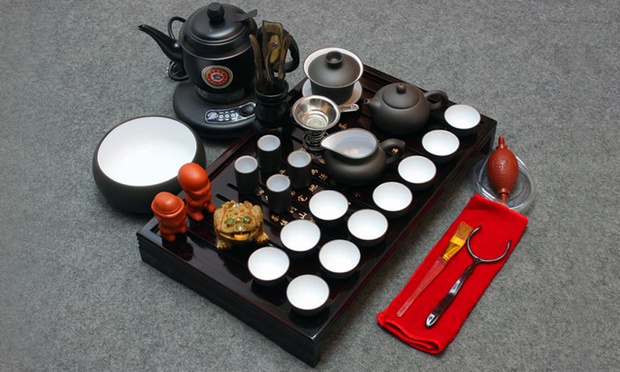 30pc Kungfu Tea Set with Tea Pot