Home
»
Product Sales
»
Up to 41% Off Lunamer 4-Piece Facial Skincare Travel Kit + Facial from RM58
Up to 41% Off Lunamer 4-Piece Facial Skincare Travel Kit + Facial from RM58
Moisturising and firming skincare products in convenient travel-sized bottles.
Includes complimentary facial.
Pick-up or free delivery to Peninsular Malaysia included.
Choose from
Free delivery to Peninsular Malaysia
Skincare kit + facial for RM68 instead of RM105
Pick-up
Skincare kit + facial for RM58 instead of RM98
Product specifications and features
Active ingredients
Orange oil
Clear nano vitamin E
Nano vitamin A
Curcumin
Scutellaria Baicalensis root extract
Crown sugar
Seaweed extract
Fruit acid
Emulsion I kit includes
For normal-oily skin
Clear Wash cleanser
Brightener
Lotion I
Emulsion I
Emulsion II kit includes
For dry skin
Clear Wash cleanser
Brightener
Lotion II
Emulsion II
Customers also receive 1x complimentary facial for 1 person. Call yvonne.yong to enquire.
Warranty by Groupon
7-day warranty from date of receipt.
For warranty claims:
STEP 1: Email http://contact.groupon.my/ under -Product/Deliveries- and provide the following details:
– Name
– Contact number
– Email address
– Delivery address (comment section)
– Groupon voucher code
– Groupon security code
– Attached Groupon
STEP 2: Upon processing, a mailing address and reference number will be provided.
STEP 3: Faulty products must be delivered in its original packaging (including accessories, manuals, and documentation) to Groupon Malaysia, Petaling Jaya. Delivery costs to be covered by customer.
Groupon Malaysia will cover delivery costs of replacement product to customer.
Printed Groupon will be required as proof of purchase.
Warranty claims which do not fulfil the steps above will not be processed due to missing information.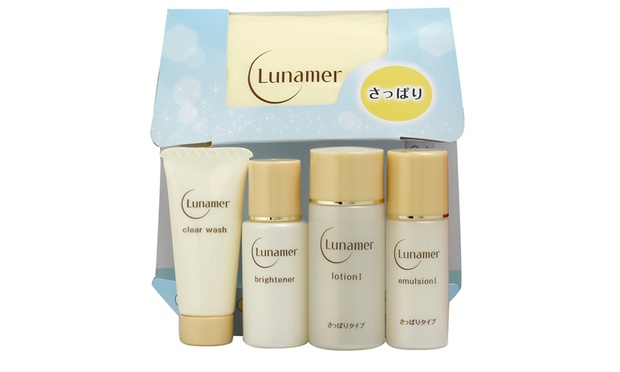 Emulsion 1

Emulsion 2