Home
»
Home & Living
»
Up to 63% Off Hello Kitty / Doraemon Themed Juicer-Bottle from RM28
Up to 63% Off Hello Kitty / Doraemon Themed Juicer-Bottle from RM28
Delivery to Peninsular Malaysia included.
Consuming fruit juices in the morning can wake one up, much like drinking a hot cup of coffee or getting spritz in the eye by vengeful orange pulps. Today's Groupon stirs you up with a Hello Kitty or Doraemon juicer-bottle from D Vica Resources, with free delivery to Peninsular Malaysia. Choose from:
1 unit (500ml) for RM28 instead of RM65
1 unit (800ml)for RM32 instead of RM85
2 units (500ml + 800ml) for RM55 instead of RM150 (only RM27.50 per unit)
Product specifications and features
Dimension and bottle capacity:
– 500ml bottle: 5.8cm (top spout diameter) x 18.3cm (H) x 7.3cm (base diameter)
– 800ml: 3.5cm (top spout diameter) x 25cm (H) x 7.3cm (base diameter)
Material:
– Top spout, juicer, and strainer: Polypropylene
– Bottom lid: Acrylic
Design: Hello Kitty or Doraemon
Temperature: -10C to 100C
Warranty by Groupon
7-day one-to-one exchange warranty from date of receipt.
For warranty claims:
STEP 1: Email support@groupon.my and provide the following details:
Name
Contact number
Email address
Delivery address (comment section)
Groupon voucher code
Groupon security code
Attached Groupon
STEP 2: Upon processing, a mailing address and reference number will be provided.
STEP 3: Faulty products must be delivered in its original packaging (including accessories, manuals, and documentation) to Groupon Malaysia, Petaling Jaya. Delivery costs to be covered by customer.
Groupon Malaysia will cover delivery costs of replacement or working product to customer.
Printed Groupon will be required as proof of purchase.
Warranty claims which do not fulfil the steps above will not be processed due to missing information.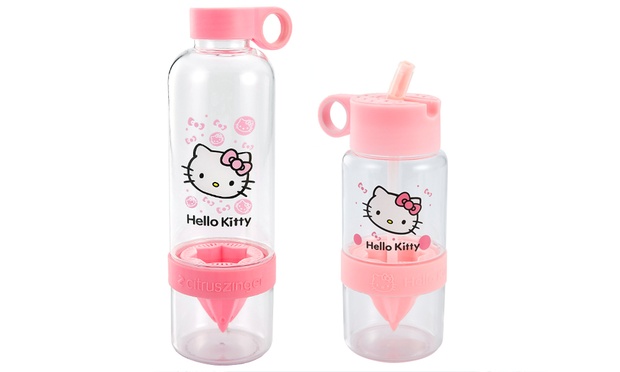 Hello Kitty bottle : 800ml & 500ml

Doraemon bottle : 800ml & 500ml