Up to 68% Off 3-Book Set from RM33
Books of various genres including romance, chick lit, and science fiction.
Free delivery to Peninsular Malaysia.
Books great avenues to exploring new worlds and building connections with characters, when they have some time off from their day jobs as table stabilisers. Today-s Groupon braves unstable surfaces with a three-book set from Groupon Malaysia, with free delivery to Peninsular Malaysia. Choose from:
Set A for RM33 instead of RM98.70
Set B for RM33 instead of RM104.70
Product specifications and features
Set A
Moonlight Masquerade – Jude Deveraux (RM31.90 value)

The final book of the -Moonlight- trilogy continues the story of three college friends waiting to discover their destinies at a Edilean, a small Virginia town. After nearly being run down by a sports car, Sophie Kincaid-s small act of revenge against the bitter driver, Dr. Reede, begins to spread through the town. Eventually, the doctor begins to harbour a secret desire to get close to the girl that turned his dark world upside down.

I Heart London – Lindsey Kelk (RM34.90 value)

Having fallen in love with life as a Brit in America, Angela Clark has no option but to return to London after her visa expired, leaving behind her boyfriend Alex and facing unfinished business in London.

77 Shadow Street – Dean Koontz (RM31.90 value)

Positioned at the summit of Shadow Hill, The Pendleton was an old palace built in the late 1800s as a tycoon-s dream home. Stories of madness, suicide, and mass murder are commonplace until its rechristening in the 1970s as a luxury apartment building. However, despite the appearance of relative peace, strange images from security cameras and voices whispering in unknown languages indicate that things are not what they seem at times.
Set B
Pure – Julianna Baggott (RM31.90 value)

Pressia could hardly remember about life before the Detonations. Living in a world of ashes and smoke where each person either becomes a soldier or a live target for the militia, Pressia could no longer pretend to be weak and has to stand up for herself.

Fuse – Julianna Baggott (RM32.90 value)

The second book of the -Pure- trilogy tells a tale of individuals called Pures living within the premises of a Dome after the world met its end. Those who remained on the outside, labelled as Wretches, struggle to survive in the post-apocalyptic world. Believing his mother lives among the Wretches, a pure named Partridge escapes the Dome on a quest to find her, just as the leader of the Pures unleashes an attack against the Wretches.

The Host – Stephanie Meyer (RM39.90 value)

In a world where parasitic aliens called Souls take over the minds of humans, Melanie Stryder refuses to relinquish her mind to a Soul called Wanderer but instead fills it with visions of a man named Jared who lives in hiding. Wanderer eventually develops feelings for Jared and soon after, both host and parasite are off on a journey to search for the man they both love.
Delivery enquiries: 03-7949 0888 – Groupon Malaysia / http://contact.groupon.my/
Business registration number: 5048A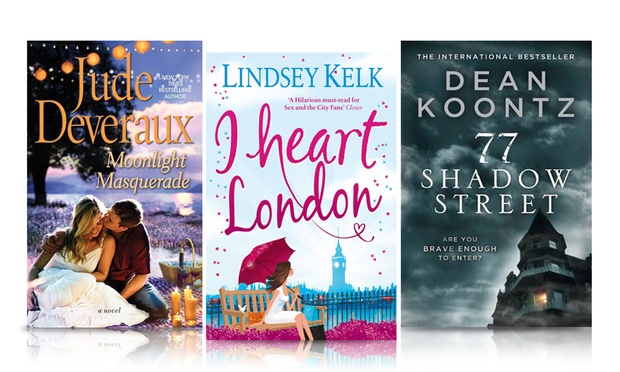 SET A

SET B