Up to 81% Off White Gold-Plated Jewellery made with SWAROVSKI ELEMENTS from Her Jewellery from RM39
Free delivery to Peninsular Malaysia.
A beautiful pair of earrings helps to attract positive attention to one's ears, unlike a bee hovering below one's earlobe. Today-s Groupon ensnares dangerously with jewellery made with SWAROVSKI ELEMENTS from Her Jewellery, with free delivery to Peninsular Malaysia. Choose from:
Pendant necklace for RM45 instead of RM224.70
Earrings for RM39 instead of RM160.30
Pendant necklace + earrings for RM75 instead of RM385
Product specifications and features
General
Setting: SWAROVSKI ELEMENTS
Earrings
Crystal (diameter): 1.3mm & 4mm
Earring dimension: 8.5mm x 8.5mm
Number of stones: 24 PP6 crystals + 2 PP32 crystals
Extra 0.5mil coating for longer lasting shine.
Pendant
Art.1088 XIRIUS Chaton Crystal (diameter): 3mm
Art.1028 XILION Chaton Crystal (diameter): 1.5mm
Pendant dimension: Approx. 20.1mm x 10.1mm
Number of stones: 1 PP24 crystal + 15 PP9 crystals
Chain length: 16", extendable up to 18"
Warranty by Her Jewellery
7-day warranty from date of receipt.
For warranty claims:
STEP 1: Email Her Jewellery at grouponmy and provide the following details:
– Name
– Contact number
– Delivery address
– Groupon voucher code
– Groupon security code
– Attached Groupon
STEP 2: Upon processing, a mailing address will be provided.
STEP 3: Faulty products must be delivered in its original packaging (including accessories, manuals, and documentation) to Her Jewellery, Singapore. Delivery costs to be covered by customer.
Customers are required to bear RM10 delivery cost of replacement product to be sent to customer.
Printed Groupon will be required as proof of purchase.
Warranty claims which do not fulfil the steps above will not be processed due to missing information.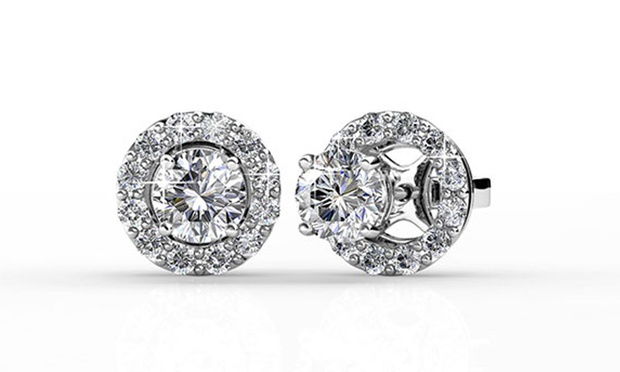 Earrings

Pendant necklace